The 40th Kennet Games 2022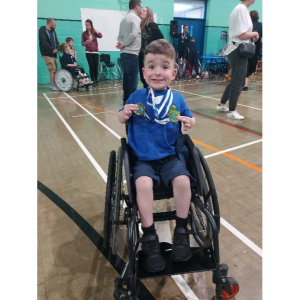 The 40th Kennet Games took place on Saturday 2nd July. The Kennet Games is a competition of sports and skills for children and young people with disabilities.
Lambs Lane were brilliantly represented at the games by Lincoln.
Some of the events that Lincoln took part in were Boccia, a sprint, darts, bowling, basketball and table top cricket.
Despite being one of the youngest competitors at the Games, Lincoln impressed the Kennet staff with his Boccia skills and won a medal.
Lincoln was energetically supported by his mum, dad, and big sister. Mrs Carroll came along to take some photos.
Lincoln also met Louise Sugden, the Paralympic Bronze Medal winning powerlifter. He got to hold her medal!
Well done Lincoln!